---
Sorry - not available any more!

---

Sorry, there is no SunSyn Mk2 any more!!!


And please don't send emails to us asking if the SunSyn will be ever produced again - useless;-)


Best Regards, your Jomox Team


---

The word "8-fold storable modular system" would describe this unit in a much better fashion, and exactly this is the SunSyn.
Each voice is a monophonic complex synthesizer of its own.
The special idea of the SunSyn is the following list of features:


2 analog VCOs
2 digital wavetables/samples - uploadable
Analog x-pole filters with morphing
Analog envelopes
Digital LFOs
Analog routing matrix, which takes 50% of the hardware space on each voice card.

Means, the best of all worlds unified in one hardware.


Analog is most powerful if it is STOREABLE and you can control it by midi with a computer. Otherwise you start again from scratch each time you have a wonderful sounding preset...


* Oscillator Section

Every SunSyn voice has two true analog oscillators, built up in discrete circuit technology and featuring the classic waveforms saw, square and pulse with pulse width modulation.

Besides that, every voice has two so called RCOs (Ramp Controlled Oscillator).
It's the first time digital waveforms can be mixed with true analog VCOs.
Therefore digital waveforms become alive like never before and open up new dimensions of sound estethics. That makes a total of 4 oscillators per voice.

The RCOs are organized in 7 wave sets with 252 waveforms each that are stored in the internal flash memory. These can be uploaded with a free SunSyn Wave Editor tool by midi dump.
The RCOs are also capable to play back short samples and to digitally FM modulate themselves or serve as a modulation source in the analog routing matrix.


* Filter Section

The filter section contains a fully configurable 4 pole true analog filter. On each pole, high/lowpass characteristics and coefficients (i.e. the basic cutoff frequency for each pole) can be adjusted individually. So you have the possibility to crossfade continously from a typical Moog 4pole to an 18db - 303 lowpass to an Oberheim-like 2pole filter.
Additionally, using the HP/LP switching for each pole, it is possible to create the most spacy bandpass- and highpass-filter sounds.
Furthermore, you can store all filter-parameters in 2 scenes and MORPH (in the analog domain!) between them.

* Envelopes

According to the machines conception, both envelopes are discreet analog circuits and super fast. One can be inverted. Typical envelope modulation paths are hard wired and have their own knob on the front panel.

* LFO's

There are two LFOs per voice. Each one can be delayd or applied to events. Waveforms are triangle, saw up/down, square and random. The rate is adjustible between approx. 1kHz and 0,02Hz to create super slow sweeps.

* Modulation

One of the most exiting innovations of the SunSyn is the routing system. It turns the SunSyn into an 8-voice modular synth with programmable routing system. And it is absolutely easy to use.
In addition to the fixed routings (e.g. Env1->VCA) you have 4 flexible and programmable routing paths per voice, called Routing Element.



Source 1
(1 of 8)
+ Source 2
(1 of 8)

* Modifier
(1 of 8)

> Destination
(1 of 8)

VCO1 S
VCO1 R
RCO1
ENV 1
VCO1KV
VCO1PV
NOISE
LFO1
VCO2 S
VCO2 R
RCO2
ENV 2
VCO2KV
VCO2PV
EXT IN
LFO2
Controller
VCO1 S
VCO2 R
ENV 1
ENV2
RCO1
LFO1
LFO2
VCO1 FM
VCO2 FM
VCO1 PW
VCO2 PW
VCF CUT
VCF RES
VCF IN
VCA AMT



You can picture routing elements as a modular system's cable, with two inputs (sources) and one output (destination). They are connected by an electronically controlled knob (modifier) to control the intensity.
The intensity itself can be modulated by any Midi-Controller (e.g. controller, velocity, aftertouch) or by an analog audio-signal from the SunSyn. So you create 'modulated modulations'.
Besides that, the signals of each voice can modulate among each other. Up to now, this was only possible with 'real' (and huge) modular systems.
Everything works of course in the analog domain. Therefore no operation is limited by fixed point calculation errors (as in DSPs), but instead offers full dynamic-range for chaotic effects which apear on many modulations.
Every modulation path is easy edited and understandable by one single view on the front panel.

An example:

Both VCOs are cross-modulated. This needs 2 Routing Elements, one for each voice. The intensity of the modulation can be controlled by e.g. key velocity. But this is just for starters.
At the same time, an external audio signal is mixed with noise and cutted into pieces by LFO1 and is mixed into the filter input.
Now there still remains one Routing Element to e.g. ringmodulate RCO1and RCO2, and let the result modulate the VCA amount (if RCO2 is the source and RCO1 the modifier, both signals get multiplied; the result is a ring modulation).
The final sound result should be spaced out in every sense of the word.

* Control Panel

There is a knob or lighted button on the control panel for every important function. All in all, there are 40 of them.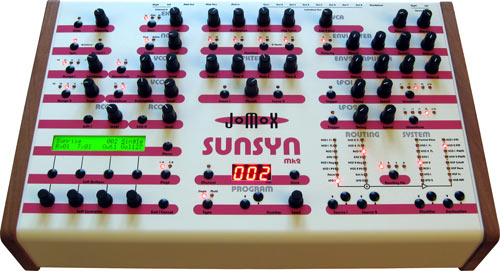 The SunSyn has a 48 character-LCD with 4 soft-controllers and 4 soft-buttons to handle several edit-menues in an easy way.
A three character LED shows programm number and the actual parameter value.

* Sound storage

The SunSyns internal memory can handle 256 single sounds, 128 multis and 7 wavesets.

* Midi

All knob movements and keypad events are sent and received as Midi controller data.
We will deliver editor templates for the best known software sequencer systems.

* In / Outputs

The SunSyn has a stereo-out. Stereo-panning can be modulated by an own LFO. There are also 8 freely routable individual outs. All out sockets are electronically balanced tip/ring on 1/4 inch jacks. The headphone-out has its own volume knob.
Besides that there is a stereo input to send external audio signals or control voltages into the SunSyns routing system.

* Power supply

The SunSyn has an internal power supply. It is a clean and computer controlled audio power supply, specially designed to avoid any unwanted effects to the audio circuits. The line voltage is switchable 230/110V and the power cable is removable.

* Casing

The SunSyn Mk2 is housed in a solid metal case with wooden side panels. 

| | |
| --- | --- |
| | |
It can be used as desktop unit or can be turned into a 19" rack unit by removing the end woods and turning around the metal sides underneath the woods.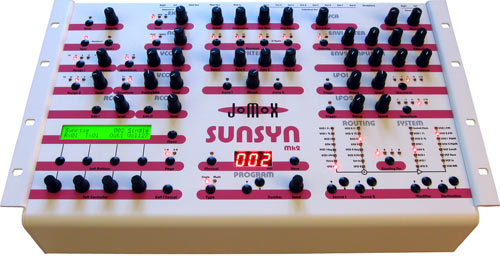 The SunSyn Mk2 is available in white or black color with purple stripes. At your choice are standard black plastic knobs as well as fine metal knobs in gold, ruthenium or black with a shining surface.


© 2000-2010 JoMoX GmbH